SPRING BRUSH COLLECTION
Spring brush collection will be held on Monday, May 23rd, weather permitting.  Crews will pick up tree and shrub trimmings that are from 3′ – 8′ in length and up to 6″ in diameter.  Piles should not exceed 4′ X 8′ in size.  Larger branches and items such as stumps, roots and professional tree trimmings will not be collected.  Bundles should not be tied or bound and are to be stacked with the cut end toward the street.  Crews will start working early in the morning and make one pass only through the area.  For more information, contact the Street Department @ (815) 894-2806.
MUSIC IN THE PARK
Music returns to War Memorial Park, 301 South Main Avenue, on the following Fridays from 6:00 to 9:00 pm.  Bring your blankets, lawn chairs, and refreshments to enjoy some great music with friends.
May 27 – Joey Figgiani
June 24 – Jerry Armstrong, the Legends of Las Vegas
September 16 – The Lorenzi Brothers
October 7 – Darrell Data
MEMORIAL DAY SERVICE
The Ladd American Legion Harold E. Russell Post #938 will conduct a Memorial Day service at noon on Monday, May 30th in War Memorial Park.  In case of inclement weather, the service will be held inside Ladd's Community Center.  The public is invited to attend.
2022 FARMERS MARKET
Ladd's Farmers Market returns to War Memorial Park on Monday, June 13, 2022.  The event will be held each Monday from 4:00pm to 6:00pm with the exception of July 4th and September 5th.  The park is located at 301 South Main Avenue and there is no charge to participate.  For more information or if you would like to participate, contact Molly @ (815) 894-2619 or (815) 541-8116.
GENERAL PRIMARY ELECTION
The General Primary Election will be held on Tuesday, June 28, 2022.  For information on early voting or vote by mail, go to the Government>Elections tab.
YARD WASTE COLLECTION
To be included on the 2022 yard waste collection route, residents are to sign up by mailing a $10 check to Republic Services, 101 Peggy Lane, Princeton, IL  61356.  Write on the memo line of your check "YW – your address", for example "YW – 121 North Main Avenue".   This payment will allow the collection of yard waste in biodegradable bags on Fridays with your regular trash pickup.  The collection starts in April and continues through autumn.  For more information, contact the Clerk's Office at (815) 894-2440.
AMEREN GAS LINE UPGRADE
Ameren is currently performing gas system upgrades on the east side of town and has contracted with a company to do the work.   Work on the gas system upgrades began in April and will continue thru mid-October.  The contractor will level, seed, and place straw over the areas affected by the work.
2021 WATER QUALITY REPORT
Your annual water quality report is now available at http://testinc.com/ladd.pdf.  To speak with someone about this report or to have a copy of it mailed to you, please call (815) 894-2440.
2022 HOUSEHOLD HAZARDOUS WASTE COLLECTION EVENTS
The Illinois EPA has announced nine Household Hazardous Waste one-day collection locations for Spring 2022.
VILLAGE WIDE GARAGE SALES IN CONJUNCTION WITH "MORE IN BUREAU COUNTY" (formerly More on 34)
Residents wanting to be added to the sale map (at no charge) should call the Clerk's Office at (815) 894-2440 or email info@villageofladd.com with their sale address by Friday, June 10th.  This year's sale will be Friday & Saturday, June 17th and 18th.   Maps will be ready by Thursday, June 16th, and available at Casey's, Village Hall, North Central Bank, Post Office, www.villageofladd.com, and on the Village of Ladd's Facebook page.  Wanted to give everyone lots of time to participate.
GARAGE SALE SIGN-UP INFORMATION
LADD SENIOR VILLAGE
Information for Ladd's new senior housing development can be found on the About tab > Ladd Senior Village.
WAR MEMORIAL PARK
Tickets will be issued to violators.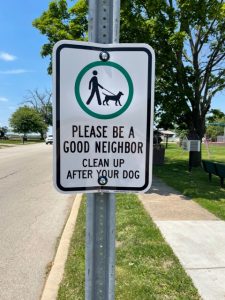 2022 GOLF CART STICKERS
2022 golf cart stickers are now available for purchase ($25) in the Village Clerk's office.  Current stickers will expire on March 31st.   For more information, call the office @ (815) 894-2440.
2022 DOG TAGS
Dog tags for the calendar year 2022 are now available in the Village Clerk's office.  The fee is $5.00 per dog and is in addition to the Bureau County tag.   For more information, call the office @ (815) 894-2440.
TAPS ON MAIN STREET
At the 11th hour on the 11th day of each month, Taps is played over our Main Street speakers as a reminder to all citizens of the sacrifices that our servicemen and servicewomen have made for our freedom.  Everyone is welcome to gather at the Veteran's Memorial Monument in War Memorial Park for the tribute.