LET'S LIGHT UP LADD!
Ladd's Main Avenue is going to have a 25′ Christmas Tree this year – thanks to the generosity of the Tom Giachetto family!  The tree will be put up by our wonderful Village workers in the North Central Bank's empty lot.  Lighting of the tree will be the finale of Ladd's 2021 Christmas Walk, following the Snowman Parade.  Once the parade has ended, return to the corner of Main & Elm to witness the lighting of this beautiful tree by a Ladd Grade School student.  A 25′ tree takes lots of lights!  Will you help LIGHT UP LADD?  $20 will purchase a string of lights and we will add your name and post our Scroll of Christmas Spirit.  Light donations can be dropped off at Village Hall, the North Central Bank drive-thru, or Venmo to Tree Chair Jan Martin: Venmo username Jan-Martin-61329.  See you at 5:30 pm at the corner of Elm Street & Main Avenue on Saturday, December 11th!  Click here for the Let's Light Up Ladd! donation form.
2021 CHRISTMAS WALK
CHRISTMAS LIGHTING CONTEST
Help spread some holiday cheer by participating in a Christmas Lighting Contest sponsored by Phil & Mary Ann Hocking from Dr. Phil's Small Engine.  No registration fee is required.  Both residential and commercial entries are encouraged.  Cash prizes will be awarded for best displays, 1st Place $100 – 2nd Place $75 – 3rd Place $50.  Entries will be judged on the evening of Saturday, December 18th, 2021.  For more information, call Phil (815) 488-8245.
FLU SHOT INFORMATION
The Bureau County Health Department will not hold a flu shot clinic at the Ladd Moose Lodge this year.  Flu shots will be administered at the BCHD, 526 South Bureau Valley Parkway #A, Princeton, on Fridays from 8:00 am to 12:30 pm by appointment.  Call (815) 872-5091 for more information or to schedule an appointment.
LADD SENIOR VILLAGE
Information for Ladd's new senior housing development can be found on the About tab > Ladd Senior Village.
WAR MEMORIAL PARK
Tickets will be issued to violators.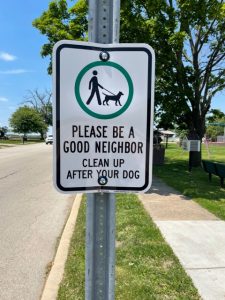 WATER QUALITY REPORT
Your Annual Water Quality Report is now available at http://testinc.com/ladd.pdf.  To speak with someone about this report or to have a copy of it mailed to you, please call the Village Clerk's Office 815-894-2440.
2022 GOLF CART STICKERS
2022 golf cart stickers are now available for purchase ($25) in the Village Clerk's office.  Current stickers will expire on March 31st.   For more information, call the office @ (815) 894-2440.
2022 DOG TAGS
Dog tags for the calendar year 2022 are now available in the Village Clerk's office.  The fee is $5.00 per dog and is in addition to the Bureau County tag.   For more information, call the office @ (815) 894-2440.
TAPS ON MAIN STREET
At the 11th hour on the 11th day of each month, Taps is played over our Main Street speakers as a reminder to all citizens of the sacrifices that our servicemen and servicewomen have made for our freedom.  Everyone is welcome to gather at the Veteran's Memorial Monument in War Memorial Park for the tribute.