2018 LIGHTED SNOWMAN PARADE WILL BE CAPTURED ON VIDEO THIS YEAR THANKS TO Mathew Klein Films! 

⛄️


PLACE YOUR ORDER BY CLICKING ON THE LINK BELOW!
https://www.matthewkleinfilms.com/dvd/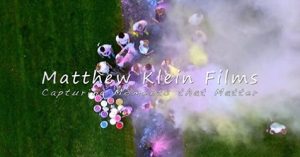 LADD CHRISTMAS WALK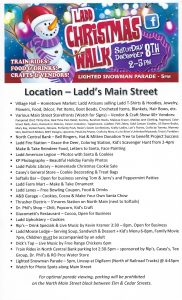 ELECTION FILING NOTICE
The first day for candidates to file petitions for the April 2, 2019 Consolidated Election is Monday, December 10th at 8:00am in the Village Clerk's office.  The filing period will continue during normal business hours through Monday, December 17th when the office will remain open until 5:00pm.  Normal business hours are 8:00am – Noon & 1:00pm – 4:30pm, Monday thru Friday.
HOLIDAY LIGHTING CONTEST
The Ladd Men's Club is sponsoring a Holiday Lighting Contest again this year.  Everyone in Ladd is welcome to participate and there is no pre-entry required.  Judging will take place during the week of Christmas so everyone has time to get their outdoor decorating completed.  First Prize – $100, Second Prize – $50, Third Prize – $25 will be awarded on January 3, 2019.  Village of Ladd Officials and members of the Ladd Men's Club are not eligible to participate.
LADD HISTORY BOOKS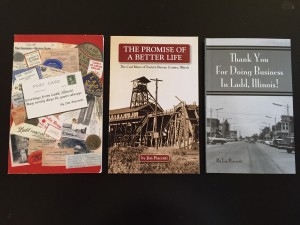 Ladd resident Jim Piacenti's three books are available for purchase in the Village Clerk's office or by contacting him @ (815) 894-2840.
Greetings From Ladd, Illinois! ($20) recounts Ladd's early history.
The Promise of A Better Life ($22) references the coal mines of eastern Bureau County.
Thank You For Doing Business In Ladd, Illinois! ($23) includes information on over 400 Ladd businesses from 1888-2015.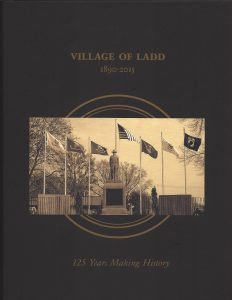 Also available is Ladd's 125th Anniversary Commemorative Book ($30) from the Village Clerk's Office.
CHRISTMAS EVE MASS
The public is invited to attend a Christmas Eve Vigil Mass at 3:30pm on Monday, December 24th in Ladd's Community Center.
STORY TIME
Story Time will be held at the Ladd Public Library each Tuesday from 10:30-11:15am.  Cheri Linnig leads the program which consists of stories, a craft, and a snack.  Pre-school children ages 2-5 and accompanied by an adult are welcome to attend.
SCHWAN'S CARES FUNDRAISER
With the busy holiday season right around the corner, let Schwan's help out and give back to the Ladd Community Education & Enrichment Foundation (LCEEF) at the same time.  Order from Schwan's between November 1 and March 16 either online or by phone and Schwan's will donate a percentage of your order to LCEEF.  With over 300 delicious foods that go from freezer to table in minutes and personal delivery to your door, a quality meal is always within reach.  Anyone, anywhere, can support LCEEF by placing their Schwan's orders using either of the two methods: To order online, visit schwans-cares.com/c/43325, click "Shop Now" and start shopping!  To order by phone, call 855-870-7208 and provide campaign ID 43325.
CONSOLIDATED PETITIONS AVAILABLE
Petitions for the office of Ladd Village Trustee are available beginning Tuesday, September 18, 2018 from the Ladd Village Clerk.  The 4-year terms of Trustees Jim Manning, Jan Martin, and Mike Urbanowski will be expiring. Candidates or their representatives may pick up petition packets in the Village Clerk's office, 121 North Main Avenue, during regular office hours of 8:00am – Noon & 1:00pm – 4:30pm, Monday thru Friday. The filing period is December 10 – 17, 2018, and the Consolidated Elected will be held on Tuesday, April 2, 2019.  For more information, contact the Ladd Village Clerk at (815) 894-2440.
RECYCLABLES – EMPTY.CLEAN.DRY.
Republic Municipal Services Manager Jim Pozzi recently addressed the Ladd Village Board on the importance of educating residents on the proper way to recycle.  Please refer to the information below on WHAT and HOW to recycle.  Your cooperation will be appreciated.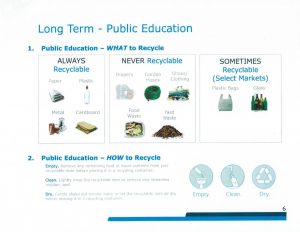 SEWER BACKUP REPORTING
The Village of Ladd is in the process of implementing a CMOM (Capacity, Management, Operations, and Maintenance) Plan for the Sanitary Sewer Collection System.  In order to improve the ability to identify where basement backups and overflows occur, a system of record keeping will be implemented.  For each complaint or notification received by the Village concerning a sanitary sewer overflow or a basement backup with the potential of being caused by issues with the Village's collection system, a report will be generated.  A form has been created for the purpose of keeping these records.  Residents are encouraged to print, complete and submit the form to the Village Clerk's office when they experience a sewer backup event.  Forms are also available in the Village Clerk's office.  For more information, contact Superintendent Doug Englehaupt @ (815) 894-2806.