FLU SHOT CLINIC
The Bureau County Health Department will sponsor a Flu Shot Clinic on Friday, October 5, 2018, from 9:00am – 10:30am at the Ladd Moose Lodge.  Clients are asked to bring their insurance card or their Medicare Part B card to the clinic.  Cost of the flu shot is $30 and no appointment is necessary.
CONSOLIDATED PETITIONS AVAILABLE
Petitions for the office of Ladd Village Trustee are available beginning Tuesday, September 18, 2018 from the Ladd Village Clerk.  The 4-year terms of Trustees Jim Manning, Jan Martin, and Mike Urbanowski will be expiring. Candidates or their representatives may pick up petition packets in the Village Clerk's office, 121 North Main Avenue, during regular office hours of 8:00am – Noon & 1:00pm – 4:30pm, Monday thru Friday. The filing period is December 10 – 17, 2018, and the Consolidated Elected will be held on Tuesday, April 2, 2019.  For more information, contact the Ladd Village Clerk at (815) 894-2440.
PARK FUNDRAISER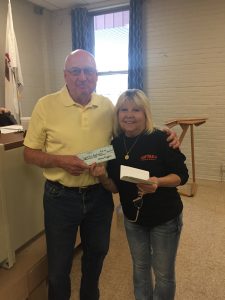 Noreen Griffin, owner of Softails Bar & Grill presented a $10,000 check to Village President Mike Grivetti at a recent Village Board meeting.  Griffin organized a fundraiser to benefit Ladd's parks.  The $9,000 winning ticket was held by Ladd resident Julie Palmer.  Thank you to Noreen and to everyone who purchased tickets or made a donation to support improvements to our parks.
MOSQUITO SPRAYING
Weather permitting, mosquito spraying will be done at dusk on Tuesday & Thursday evenings as needed.  Due to the quiet operation of the Village's new machine, residents may not be aware when crews are spraying.
GRASS CLIPPINGS ON STREETS
Residents are to refrain from blowing grass clippings onto Village streets as they can create problems with our sewer system.  Fresh clippings are also a safety hazard to bicycle and motorcycle riders by creating a slippery surface on the pavement.  Violators may be issued an Administration Ticket by the Police Department.
RECYCLABLES – EMPTY.CLEAN.DRY.
Republic Municipal Services Manager Jim Pozzi recently addressed the Ladd Village Board on the importance of educating residents on the proper way to recycle.  Please refer to the information below on WHAT and HOW to recycle.  Your cooperation will be appreciated.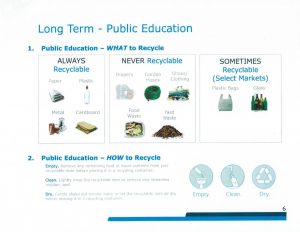 SEWER BACKUP REPORTING
The Village of Ladd is in the process of implementing a CMOM (Capacity, Management, Operations, and Maintenance) Plan for the Sanitary Sewer Collection System.  In order to improve the ability to identify where basement backups and overflows occur, a system of record keeping will be implemented.  For each complaint or notification received by the Village concerning a sanitary sewer overflow or a basement backup with the potential of being caused by issues with the Village's collection system, a report will be generated.  A form has been created for the purpose of keeping these records.  Residents are encouraged to print, complete and submit the form to the Village Clerk's office when they experience a sewer backup event.  Forms are also available in the Village Clerk's office.  For more information, contact Superintendent Doug Englehaupt @ (815) 894-2806.