BOIL ORDER IS LIFTED
The boil order is lifted for those residents that were affected.
VILLAGE CLERK'S OFFICE CLOSURE
Due to the current trend with Covid-19, the Clerk's Office will be closed to the public starting Monday, January 10, 2022, and will remain closed until further notice.   Village payments can be made through PSN, called in, or placed outside in our drop box.   If you need a dog tag or golf cart sticker please knock and we will let you in.   You MUST wear a mask to enter.    Call (815) 894-2440 with any questions.
CHRISTMAS WALK
Thank you for your help in making the 2021 Ladd Christmas Walk a huge success.  Whether you painted windows, baked cookies, hung lights and decorated the town, hosted Santa, created a float, walked in the parade, provided sponsorship money, held family-friendly activities at the fire station or at Ladd Grade School, opened your business with free refreshments and games, or volunteered your time or talents in any way – YOU were the best part of LADD and one of the reasons "There's Snow Place like Ladd!"
IMUA SCHOLARSHIP COMPETITION
The Village of Ladd, in partnership with the Illinois Municipal Utilities Association (IMUA), is again offering a scholarship competition for eligible high school seniors.  Each eligible applicant is asked to submit an application and an essay of 500 words or less addressing their choice of one of four utility-related questions.  The top four vote-getters in this year's essay competition will receive a finalist certificate and a $1,000 scholarship award check from IMUA.  Applicants must be high school seniors whose parents or legal guardians are residential customers of the Village of a Ladd Municipal Utility.  The deadline for submitting applications and essays is Friday, March 11, 2022. Applicants may contact IMUA's DeeDee Bunch at (217) 789-4632 or dbunch@imea.org for more information.
2022 IMUA Scholarship Program Application
2022 IMUA Scholarship Program Guidelines and Questions Sheet
LADD SENIOR VILLAGE
Information for Ladd's new senior housing development can be found on the About tab > Ladd Senior Village.
WAR MEMORIAL PARK
Tickets will be issued to violators.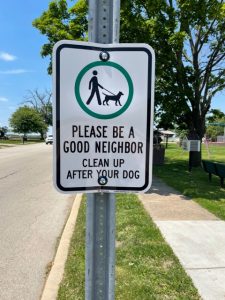 WATER QUALITY REPORT
Your Annual Water Quality Report is now available at http://testinc.com/ladd.pdf.  To speak with someone about this report or to have a copy of it mailed to you, please call the Village Clerk's Office 815-894-2440.
2022 GOLF CART STICKERS
2022 golf cart stickers are now available for purchase ($25) in the Village Clerk's office.  Current stickers will expire on March 31st.   For more information, call the office @ (815) 894-2440.
2022 DOG TAGS
Dog tags for the calendar year 2022 are now available in the Village Clerk's office.  The fee is $5.00 per dog and is in addition to the Bureau County tag.   For more information, call the office @ (815) 894-2440.
TAPS ON MAIN STREET
At the 11th hour on the 11th day of each month, Taps is played over our Main Street speakers as a reminder to all citizens of the sacrifices that our servicemen and servicewomen have made for our freedom.  Everyone is welcome to gather at the Veteran's Memorial Monument in War Memorial Park for the tribute.