MAIN STREET PARKING
According to Ladd's Municipal Code:  It is unlawful to park any vehicle on Main Street in the Village between the hours of two a.m. and six a.m. after a snowfall of two inches or more has occurred.
HOLIDAY CLOSING
The Village Clerk's Office and Public Works Department will be closed on Monday, January 21st in observance of Martin Luther King Jr. Day.  There will be no change to the trash collection schedule.
TRIVIA NIGHT FUNDRAISER
Join in for challenging trivia, food, drinks, raffles, & an evening of fun!  Get a team together and reserve your table for the Ladd Public Library's Trivia Night Fundraiser on Saturday, January 26, 2019 at Ladd's Community Center.  Cost: $100 per table, max 10 people per table.  Doors open at 6pm & trivia begins at 7pm.  For more information or to reserve a table, contact the library @ (815) 894-3254.  Thanks for supporting your local library!
YOUTH BASEBALL REGISTRATION
Ladd Youth Baseball/Softball registration for all boys and girls wishing to play T-Ball (ages 4-6), Girls Softball, Instructional League, Minor League, Little League, Junior League, and Senior League for the 2019 season will be held at the Ladd Community Center on Saturday, February 2nd from 9:00am – 12:00pm and Saturday, February 9th from 9:00am – 12:00pm.  Any questions, contact Denny Galetti (baseball) 815-878-2784 or Kathy Schlegel (softball) 815-488-2524.
Please make checks payable to Ladd Youth Baseball.
$35 – T-Ball per child, $50 for 2
$75 – 1 child participating
$100 – 2 children participating
$125 – 3 or more children participating
All coaches are chosen on a volunteer basis.  If you would like to help, please indicate so at registration.
All coaches are volunteers/parents, without them it would not be possible to have teams.
If you are unable to attend registration, please contact Denny Galetti ASAP.
The USA bat standard is for boys baseball ONLY.
TAPS ON MAIN STREET
At the 11th hour of the 11th day of each month, Taps will be played over the Main Street speakers as a reminder to all citizens of the sacrifices that our servicemen and servicewomen have made for our freedom.
FIRE DEPARTMENT SMOKER
The Ladd Fire Department's Smoker is an annual fundraiser to be held on Saturday, February 16, 2019 at the Fire Station.  The $15 cover gets you the best fried chicken north of Rips, spaghetti, beer and soda.  There will be plenty of games and great prizes to be won all evening.  Doors open at 6:00pm, you must be 21 to enter.  Come on out for a great time!
2019 DOG TAGS
Village dog tags are required for all dogs within the Village limits. Tags are $2 per dog each year and are valid January 1st through December 31st. 2019 tags are now available in the Clerk's office. This tag is in addition to the Bureau County rabies tag.  Reminder: dogs are not allowed to run at-large in the Village.  Please be responsible and clean up after your pet.
LADD HISTORY BOOKS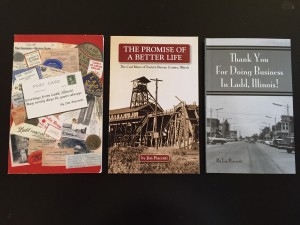 Ladd resident Jim Piacenti's three books are available for purchase in the Village Clerk's office or by contacting him @ (815) 894-2840.
Greetings From Ladd, Illinois! ($20) recounts Ladd's early history.
The Promise of A Better Life ($22) references the coal mines of eastern Bureau County.
Thank You For Doing Business In Ladd, Illinois! ($23) includes information on over 400 Ladd businesses from 1888-2015.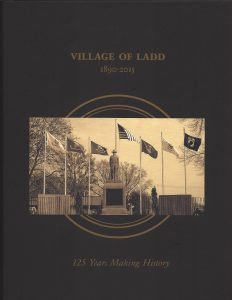 Also available is Ladd's 125th Anniversary Commemorative Book ($35) from the Village Clerk's Office.
STORY TIME
Story Time will be held at the Ladd Public Library each Tuesday from 10:30-11:15am.  Cheri Linnig leads the program which consists of stories, a craft, and a snack.  Preschool children ages 2-5 who are accompanied by an adult are welcome to attend.
SCHWAN'S CARES FUNDRAISER
With the busy holiday season right around the corner, let Schwan's help out and give back to the Ladd Community Education & Enrichment Foundation (LCEEF) at the same time.  Order from Schwan's between November 1 and March 16 either online or by phone and Schwan's will donate a percentage of your order to LCEEF.  With over 300 delicious foods that go from freezer to table in minutes and personal delivery to your door, a quality meal is always within reach.  Anyone, anywhere, can support LCEEF by placing their Schwan's orders using either of the two methods: To order online, visit schwans-cares.com/c/43325, click "Shop Now" and start shopping!  To order by phone, call 855-870-7208 and provide campaign ID 43325.
RECYCLABLES – EMPTY.CLEAN.DRY.
Republic Municipal Services Manager Jim Pozzi recently addressed the Ladd Village Board on the importance of educating residents on the proper way to recycle.  Please refer to the information below on WHAT and HOW to recycle.  Your cooperation will be appreciated.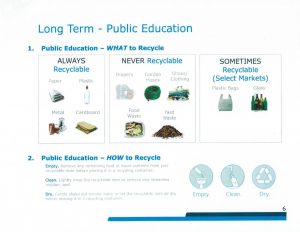 SEWER BACKUP REPORTING
The Village of Ladd is in the process of implementing a CMOM (Capacity, Management, Operations, and Maintenance) Plan for the Sanitary Sewer Collection System.  In order to improve the ability to identify where basement backups and overflows occur, a system of record keeping will be implemented.  For each complaint or notification received by the Village concerning a sanitary sewer overflow or a basement backup with the potential of being caused by issues with the Village's collection system, a report will be generated.  A form has been created for the purpose of keeping these records.  Residents are encouraged to print, complete and submit the form to the Village Clerk's office when they experience a sewer backup event.  Forms are also available in the Village Clerk's office.  For more information, contact Superintendent Doug Englehaupt @ (815) 894-2806.