SOCIABLES FALL LUNCHEON
Ladd's Senior Sociables and their guests are invited to a Fall Luncheon to be held @ 1:00pm on Wednesday, October 17, 2018, at Giacometti's Italian Restaurant & Pizzeria.  The menu will include spaghetti, salad, bread, dessert and coffee for $10.99 per person, tip not included.  Reservations are due by Friday, October 12th to the Ladd Village Clerk's Office.  Your payment will be your reservation.
FALL BRUSH COLLECTION
Fall brush collection in the Village of Ladd will be held on Tuesday, October 16th, weather permitting.  Crews will pick up tree and shrub trimmings that are from 3'- 8' in length and up to 6" in diameter.  Piles should not exceed 4' X 8' in size.  Larger branches and items such as stumps, roots and professional tree trimmings will not be collected.  Bundles should not be tied or bound and are to be stacked with the cut end toward the street.  Crews will start working early in the morning and make one pass only through the area.  For more information, contact the Village Garage @ (815) 894-2806.
EARLY VOTING AVAILABLE
Early voting for the November 6, 2018 General Election is now available in the Bureau County Clerk's office, 700 South Main Street, Princeton.  The office will be open 8:00am – 4:00pm, Monday thru Friday.   The Clerk's office will also be open on Saturday, October 27 and Saturday, November 3 from 8:00am – 2:00pm.  Due to Courthouse security, you will not be able to enter with a cell phone.  From October 22 thru November 2, early voting will also be available at the Princeton Moose Lodge, 1339 North Euclid Avenue from 8:00am – 4:00pm  and the Spring Valley City Hall, 215 North Greenwood Street from 9:00am – 3:00pm, Monday thru Friday.  Click here to view a sample ballot.  Click here to download an absentee ballot application.
HALLOWEEN PARADE & PARTY
Children and grandchildren of Ladd residents are invited to participate in a Halloween Costume Parade & Party on Saturday, October 27th.  The parade will line up at 12:45pm in the North Central Bank parking lot and at 1:00pm will proceed south on Main Street then west on Locust Street to the Community Center.  Children will participate in Halloween-themed activities and will be served a lunch of hot dogs, chips, cookies, and a beverage.  For a $5 donation, Kendra from KP Photography will take a fall photo of your costumed child/children attending the party.  The event is sponsored by the Ladd Recreation Board.  For more information, contact the Village Clerk's office.
TRICK OR TREAT
Trick or Treat in the Village of Ladd will be held from 5:00pm to 7:00pm on Halloween, Wednesday, October 31st.  Residents are asked to leave a porch light on if they wish to participate.  For the safety of the children, please refrain from leaf burning on this day.
CONSOLIDATED PETITIONS AVAILABLE
Petitions for the office of Ladd Village Trustee are available beginning Tuesday, September 18, 2018 from the Ladd Village Clerk.  The 4-year terms of Trustees Jim Manning, Jan Martin, and Mike Urbanowski will be expiring. Candidates or their representatives may pick up petition packets in the Village Clerk's office, 121 North Main Avenue, during regular office hours of 8:00am – Noon & 1:00pm – 4:30pm, Monday thru Friday. The filing period is December 10 – 17, 2018, and the Consolidated Elected will be held on Tuesday, April 2, 2019.  For more information, contact the Ladd Village Clerk at (815) 894-2440.
RECYCLABLES – EMPTY.CLEAN.DRY.
Republic Municipal Services Manager Jim Pozzi recently addressed the Ladd Village Board on the importance of educating residents on the proper way to recycle.  Please refer to the information below on WHAT and HOW to recycle.  Your cooperation will be appreciated.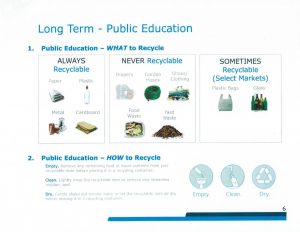 SEWER BACKUP REPORTING
The Village of Ladd is in the process of implementing a CMOM (Capacity, Management, Operations, and Maintenance) Plan for the Sanitary Sewer Collection System.  In order to improve the ability to identify where basement backups and overflows occur, a system of record keeping will be implemented.  For each complaint or notification received by the Village concerning a sanitary sewer overflow or a basement backup with the potential of being caused by issues with the Village's collection system, a report will be generated.  A form has been created for the purpose of keeping these records.  Residents are encouraged to print, complete and submit the form to the Village Clerk's office when they experience a sewer backup event.  Forms are also available in the Village Clerk's office.  For more information, contact Superintendent Doug Englehaupt @ (815) 894-2806.