MEMORIAL DAY SERVICES
The public is invited to attend Memorial Day services in Ladd Cemetery at 11:45 am and War Memorial Park at 12:15 pm on Monday, May 27th.  In the event of rain, the 12:15 pm service will be held inside Ladd's Community Center.  The Ladd American Legion Harold E. Russell Post #938 will conduct the services.
VILLAGE WIDE GARAGE SALES
Time is running out to be included on Ladd's Village Wide Garage Sale map!  Call (815) 894-2440 or email info@villageofladd.com by Friday, May 31st to add your address to the map at no charge.  Sale maps will be available on Wednesday, June 5th at Casey's, North Central Bank, the Ladd Post Office and Village Hall.  They will also be posted on the Village's website & Facebook page.  The sales will be held on Saturday, June 8, 2019.
YARD WASTE COLLECTION
Our trash contractor Republic Services is offering Ladd residents the option of  weekly yard waste collection under the following terms: any household wishing to utilize the yard waste option must pay a $10.00 sign-up fee to Republic Services each year.  Include the following on the memo line of your check:  YW – your address.  For example, YW – 121 North Main Avenue.  Households that sign up and pay the $10.00 fee will be allowed to place an unlimited amount of yard waste at the curb in biodegradable bags from May through November. Each bag must have a Village of Ladd yard waste sticker attached. Small amounts of twigs and brush must be bundled three feet by three feet with a sticker attached. Yard waste stickers are available at the Village Clerk's office for $2.00 each. To sign up for yard waste service, please contact: Republic Services, 2840 E. 13th Rd., Ottawa IL  61350 or call (815) 434-2035.
WATER RATE INCREASE
Water customers in the Village of Ladd will see a substantial rate increase on their June utility bills.   This billing will reflect water charges for consumption in May.  The increase was necessary to apply for a Community Development Block Grant and an IEPA loan to replace a severely deteriorated water main located in the Main Street alley on the east side of town.  This includes the entire length of the main from Cleveland Street north to the railroad track.  Our engineers have estimated the cost to be $1,239,446.00.
ANNUAL WATER QUALITY REPORT
Please go to http://testinc.com/ladd2018.pdf to view your 2018 annual water quality report and learn more about your drinking water. This report contains important information about the source and quality of your drinking water.  For a translation of the water quality report or to speak with someone about the report, please call Joe Glynn @ T.E.S.T. Inc. (815) 224-1650.  If you would like a paper copy of the Village of Ladd's 2018 Annual Water Quality Report mailed to your home, please call the Village Clerk's Office (815) 894-2440.
GOLF CART STICKERS
2019 Golf Cart stickers are now available in the Village Clerk's office for $25.   All golf carts are required to have a current sticker which is valid from April 1st – March 31st.   More information on golf cart use in the Village can be found on the Residents tab.
FARMER'S MARKET
The Ladd Farmer's Market is returning to War Memorial Park in 2019!  The Market will open on Monday, June 10th from 4:00 pm to 6:30 pm and will continue each Monday thru September (if produce is available).  There is no participation fee, we would love to have you join us so we can make this our biggest and best year!  If you have any questions or would like to participate, call Molly at (815) 894-2619 or (815) 541-8116 after 6:00 pm.
TAPS ON MAIN STREET
At the 11th hour on the 11th day of each month, Taps will be played over our Main Street speakers as a reminder to all citizens of the sacrifices that our servicemen and servicewomen have made for our freedom.
2019 DOG TAGS
Village dog tags are required for all dogs within the Village limits. Tags are $2 per dog each year and are valid January 1st through December 31st. 2019 tags are now available in the Clerk's office. This tag is in addition to the Bureau County rabies tag.  Reminder: dogs are not allowed to run at-large in the Village.  Please be responsible owner and clean up after your pet.
STORY TIME
Story Time will be held at the Ladd Public Library each Tuesday from 10:30 am – 11:15 am.  Cheri Linnig leads the program which consists of stories, a craft, and a snack.  Preschool children ages 2-5 who are accompanied by an adult are welcome to attend.
LADD HISTORY BOOKS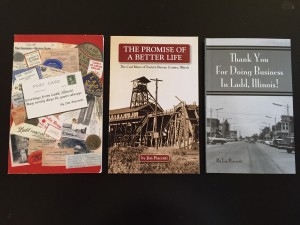 Ladd resident Jim Piacenti's three books are available for purchase in the Village Clerk's office or by contacting him @ (815) 894-2840.
Greetings From Ladd, Illinois! ($20) recounts Ladd's early history.
The Promise of A Better Life ($22) references the coal mines of eastern Bureau County.
Thank You For Doing Business In Ladd, Illinois! ($23) includes information on over 400 Ladd businesses from 1888-2015.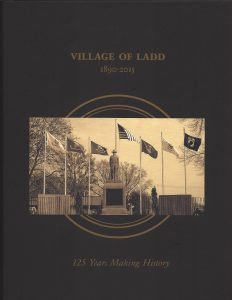 Also available is Ladd's 125th Anniversary Commemorative Book ($35) from the Village Clerk's Office.
SCHWAN'S CARES FUNDRAISER
With the busy holiday season right around the corner, let Schwan's help out and give back to the Ladd Community Education & Enrichment Foundation (LCEEF) at the same time.  Order from Schwan's between November 1 and March 16 either online or by phone and Schwan's will donate a percentage of your order to LCEEF.  With over 300 delicious foods that go from freezer to table in minutes and personal delivery to your door, a quality meal is always within reach.  Anyone, anywhere, can support LCEEF by placing their Schwan's orders using either of the two methods: To order online, visit schwans-cares.com/c/43325, click "Shop Now" and start shopping!  To order by phone, call 855-870-7208 and provide campaign ID 43325.
RECYCLABLES – EMPTY.CLEAN.DRY.
Republic Municipal Services Manager Jim Pozzi recently addressed the Ladd Village Board on the importance of educating residents on the proper way to recycle.  Please refer to the information below on WHAT and HOW to recycle.  Your cooperation will be appreciated.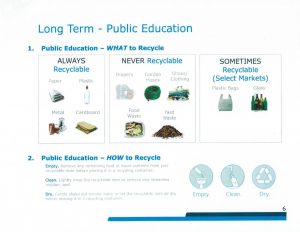 SEWER BACKUP REPORTING
The Village of Ladd is in the process of implementing a CMOM (Capacity, Management, Operations, and Maintenance) Plan for the Sanitary Sewer Collection System.  In order to improve the ability to identify where basement backups and overflows occur, a system of record keeping will be implemented.  For each complaint or notification received by the Village concerning a sanitary sewer overflow or a basement backup with the potential of being caused by issues with the Village's collection system, a report will be generated.  A form has been created for the purpose of keeping these records.  Residents are encouraged to print, complete and submit the form to the Village Clerk's office when they experience a sewer backup event.  Forms are also available in the Village Clerk's office.  For more information, contact Superintendent Doug Englehaupt @ (815) 894-2806.