Ladd Daze Schedule
Ladd Daze will be held July 20th – 22nd.  The schedule for each day can be found on the Monthly Calendar.
Convoy Against Cancer BIG Truck Show
The 15th Annual Convoy Against Cancer BIG Truck Show will return to Ladd's Main Street on Saturday, July 21st from 10:00am to 3:00pm.  Semi-tractors and trailers, dump trucks, wreckers, cranes, antique and new pickups, and antique and new farm tractors are all welcome.  Entry fee is a donation to the American Cancer Society Relay for Life.  This fun, family event will feature music, food, door prizes, and a 50/50 raffle.  For more information, contact Phil @ (815) 488-8245.
New Student Registration
Ladd Community Consolidated School District #94 will hold registration for students new to the district for the 2018/19 school year on Tuesday, July 31st between the hours of 8:00am and 3:30pm.  Textbook/Supply/Technology fees are $135 per student.  Students in grades 5 – 8 interested in participating in a sport or activity are required to pay a $65 Activity fee.  Parents must bring proof of residency in the Ladd School District.   Proof of residency can be established by submitting mortgage/lease papers or a property tax bill and two of the following items:  a driver's license, vehicle registration, voter registration, utility bill or an insurance premium receipt.  Registration packets for students returning for the 2018/19 school year are due now.
Mosquito Spraying
Weather permitting, mosquito spraying will be done at dusk on Tuesday & Thursday evenings as needed.  Due to the quiet operation of the Village's new machine, residents may not be aware when crews are spraying.
Grass Clippings on Streets
Residents are to refrain from blowing grass clippings onto Village streets as they can create problems with our sewer system.  Fresh clippings are also a safety hazard to bicycle and motorcycle riders by creating a slippery surface on the pavement.  Violators may be issued an Administration Ticket by the Police Department.
Recyclables – Empty. Clean. Dry.
Republic Municipal Services Manager Jim Pozzi recently addressed the Ladd Village Board on the importance of educating residents on the proper way to recycle.  Please refer to the information below on WHAT and HOW to recycle.  Your cooperation will be appreciated.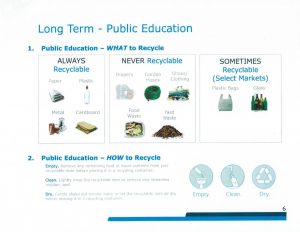 Water Quality Report
The Village of Ladd's Annual Water Quality Report is now available @ http://testinc.com/LADD.pdf.  To speak with someone about this report or to have a copy of it mailed to you, please call the Village Clerk's office at (815) 894-2440.
Golf Cart Stickers Available
Golf cart stickers are now available in the Village Clerk's office.  An annual sticker is required for all golf carts and recreational off-highway vehicles.  Stickers are $25 per vehicle and are valid from April 1, 2018 through March 31, 2019.  Failure to purchase an annual sticker may result in a $25 administrative ticket.
Dog Tags Available
2018 Ladd dog tags are now available in the Village Clerk's office.  An annual tag is required for all dogs within the Village limits. Tags are $2 per dog and are valid from January 1st through December 31st.  This tag is in addition to the Bureau County rabies tag.  Dogs are not allowed to run at-large in the Village.  Failure to purchase an annual tag or allowing your dog to run at-large may result in a $25 administrative ticket. Please be a responsible owner and clean up after your pet.
Sewer Backup Reporting
The Village of Ladd is in the process of implementing a CMOM (Capacity, Management, Operations, and Maintenance) Plan for the Sanitary Sewer Collection System.  In order to improve the ability to identify where basement backups and overflows occur, a system of record keeping will be implemented.  For each complaint or notification received by the Village concerning a sanitary sewer overflow or a basement backup with the potential of being caused by issues with the Village's collection system, a report will be generated.  A form has been created for the purpose of keeping these records.  Residents are encouraged to print, complete and submit the form to the Village Clerk's office when they experience a sewer backup event.  Forms are also available in the Village Clerk's office.  For more information, contact Superintendent Doug Englehaupt @ (815) 894-2806.