---
DECEMBER 26, 2023 COUNCIL MEETING
The Tuesday, December 26th meeting has been canceled due to being a holiday.  The next meeting will be January 9, 2024.
TRASH/RECYCLING SCHEDULE FOR 2024
To view the schedule for Trash and Recycling for 2024 click HERE
CHRISTMAS WALK
To view the schedule of events for Ladd's December 9th Christmas Walk and Lighted Snowman Parade, go to the About tab > Christmas Walk.
RAFFLE LICENSE ORDINANCE & APPLICATION
The Ladd Village Council recently voted to pass an Ordinance adding Chapter 5.30 Raffles to Title 5, Business Taxes, Licenses and Regulations of the Municipal Code of the Village of Ladd.  Ordinance 1149 Raffle License Ordinance
It shall be unlawful to conduct or operate a raffle or to sell, offer for sale, convey, issue or otherwise transfer for value a chance on a raffle unless said raffle has been licensed in accordance with this Chapter.   Any person seeking to conduct or operate a raffle shall file an application therefore with the Village Clerk on forms provided by the Village Clerk.
Ordinance 1149 Raffle License Application Instruction Pg 1
Ordinance 1149 Raffle License Application Pg 2
MATTRESS & BOX SPRING DISPOSAL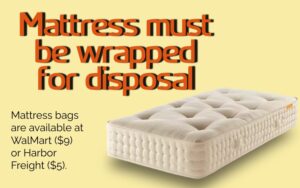 Republic Services will still pick up one large item weekly.   Both mattresses and box springs must be placed in a plastic bag in order to be picked up.
NEW OUTDOOR BURNING RULES
Leaf and other landscape waste from your yard only may be burned between the hours of 8:00 am and 6:00 pm, on Tuesdays, Thursdays, and Saturdays only.  The open burning of leaves is permitted on public rights of way, except on sidewalks, roadways, alleys, parking lots, or other paved areas. No burning is permitted within twenty (20) feet of any structure. All fires shall be constantly attended by a competent person until each fire is extinguished.  Open campfires, burn pits, and outdoor fireplaces are exempted.  During dry conditions, the Ladd Fire Chief may issue a burn ban.  All burning is prohibited until the ban is lifted.
CCC SURVEY
Residents who have not completed a Cross Connection Control Survey and have been fined $50.00 MUST STILL COMPLETE THE SURVEY.   Come into the Clerk's Office for assistance or click the link, choose residential, enter Ladd into the Town/Village/City and immediately complete the IL EPA Mandated Survey.   http://testinc.com/cross/
Per Ordinance #1075 non-compliant residents have been fined $50.00.  If you still have not completed the survey then we are to disconnect your water.   We urge residents to complete the survey today.
CONSUMER CONFIDENCE REPORT
Your Annual Water Quality Report is available at http://testinc.com/ladd.pdf.   To speak with someone about this or to have a copy mailed to you call 815-894-2440.   Copies are available in the Clerk's Office.
2024 DOG TAGS
Dog tags for the calendar year 2024 are now available in the Village Clerk's office.  The fee is $5.00 per dog and is in addition to the Bureau County tag.   Proof of rabies vaccination is required.   For more information, call the office @ (815) 894-2440.
2024 GOLF CART STICKERS
Golf Cart stickers for 2024 are now available in the Village Clerk's office.   The Fee is $25.00 per golf cart.   2023 tags expire on March 31st.
TAPS ON MAIN STREET
At the 11th hour on the 11th day of each month, Taps is played over our Main Street speakers as a reminder to all citizens of the sacrifices that our servicemen and servicewomen have made for our freedom.  Everyone is welcome to gather at the Veteran's Memorial Monument in War Memorial Park for the tribute.
LADD SENIOR VILLAGE
Information for Ladd's new senior housing development can be found on the About tab > Ladd Senior Village.
NET METERING POLICY AND INTERCONNECTION AGREEMENT & APPLICATION