TWIST ~ EAT ~ REPEAT – Sponsored by the Village of Ladd
We have scheduled (3) Tortellini making classes on Wednesday, March 1st, 8th & 15th, 2023 and they are all FULL – Dee Biagi has been kind enough to commit to (3) classes.   Thank you very much Dee!
If you are one of the 30 per class (90 total) that got registered here is some information…
Come hungry and ready to learn.   Class cost is $25 – you can pay on the night of your class.  Checks are made payable to Dee Biagi.
Bring your apron, pizza cutter, cutting board, and a personal beverage.   Starts at 5:30 pm
2023 IMUA SCHOLARSHIP PROGRAM APPLICATIONS AVAILABLE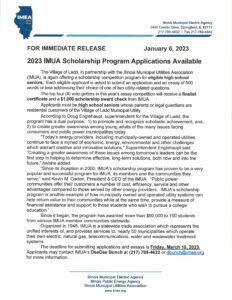 NEW OUTDOOR BURNING RULES
Burning is allowed on Tuesday, Thursday, and Saturday only.
Burning hours are 8:00 am – 6:00 pm.
Burning of leaves and landscape waste from your yard only.
WINTER SNOW REMINDER
Please DO NOT shovel or blow your snow onto plowed streets.   This is a safety hazard.
Main Avenue Residents – No Parking on Main Avenue from 2 am – 6 am after a 1″ snowfall.
SOS – SAVE OUR SOLDIER
The Village of Ladd has begun an effort to raise funds to repair the WWI soldier monument in War Memorial Park.  The statue is deteriorating and the cost to restore and treat the statue, plaques, and stone is $12,020.  Dr. Andrzej Dajnowski is skilled in monument restoration and has agreed to perform the work.  Donations are being accepted via mail (Village of Ladd, PO Box 305, Ladd, IL 61329) or by drop off to the Village Clerk at Village Hall, 121 North Main Avenue.  For more information, contact Gary Marini @ (815) 894-3009 or Sandy Galetti @ (815) 894-2954.
2023 DOG TAGS
Dog tags for the calendar year 2023 are now available in the Village Clerk's office.  The fee is $5.00 per dog and is in addition to the Bureau County tag.   New this year, proof of rabies vaccination is required.   For more information, call the office @ (815) 894-2440.
2023 GOLF CART STICKERS
Golf Cart stickers for 2023 are now available in the Village Clerk's office.   The Fee is $25.00 per golf cart.   2022 Tags expire March 31st.
TAPS ON MAIN STREET
At the 11th hour on the 11th day of each month, Taps is played over our Main Street speakers as a reminder to all citizens of the sacrifices that our servicemen and servicewomen have made for our freedom.  Everyone is welcome to gather at the Veteran's Memorial Monument in War Memorial Park for the tribute.
GARBAGE PICKUP CHANGE FOR EAST SIDE OF MAIN AVENUE ALLEY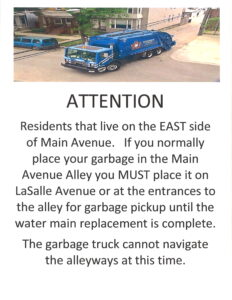 WATER MAIN PUBLIC NOTICE
Construction of Main Street Alley Water Main Improvements located in the alley on the East side of Main Street was financed in part by the Drinking Water State Revolving Fund (SRF).   The SRF program is administered by the Illinois Environmental Protection Agency and receives a portion of its money to fund these types of projects from the US Environmental Protection Agency.  This project includes improvements to the Village's water distribution system. The project will replace water mains in the alley between Cleveland Street and the railroad.  Water Mains will also be replaced on the south side of the railroad from the west side of Main Street to LaSalle Street and also along Main Street from the railroad to approximately 300 feet north.   Once complete, it will improve water quality for area residents and businesses in the Village of Ladd by improving reliability, volume and reducing maintenance costs.  SRF programs operate in each state to provide communities the resources necessary to build, maintain, and improve the infrastructure that protects one of our most valuable resources: water.
LADD SENIOR VILLAGE
Information for Ladd's new senior housing development can be found on the About tab > Ladd Senior Village.
NET METERING POLICY WITH INTERCONNECTION AGREEMENT & APPLICATION(S)
NET METERING WITH INTERCONNECTION AND APPLICATIONS 5-2022
2021 WATER QUALITY REPORT
Your annual water quality report is now available at http://testinc.com/ladd.pdf.  To speak with someone about this report or to have a copy of it mailed to you, please call (815) 894-2440.