2022 LADD CHRISTMAS WALK
Check out all the activities and entertainment!  Come Support the Ladd Christmas Walk!

GOLF CART DECORATING CONTEST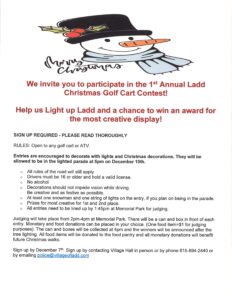 GARBAGE PICKUP CHANGE FOR EAST SIDE OF MAIN AVENUE ALLEY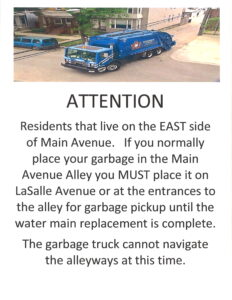 2004 INTERNATIONAL BUCKET TRUCK
Accepting Sealed Bids

SNOWMAN PARADE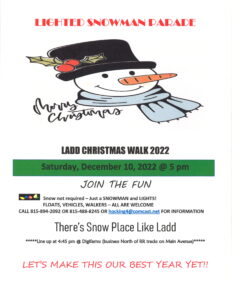 ELECTION PETITIONS AVAILABLE
Petitions for candidacy for the 2023 Consolidated Election will be available beginning, Tuesday, September 20, 2022, at the Ladd Village Hall, 121 North Main Avenue.  The terms of three trustee seats held by Jim Manning, Jan Martin, and Mike Urbanowski are expiring.  The filing period will be from Monday, December 12 to Monday, December 19, excluding weekend days.  The Village Clerk will accept petitions at Village Hall during the regular hours of 8:00am to 12:00pm and 1:00pm to 4:30pm.  On the last day of filing, the Village Clerk will accept petitions at Village Hall from 8:00am to 12:00pm and 1:00pm to 5:00pm.  The Consolidated Election will be held on Tuesday, April 4, 2023.  For general information and the 2023 State of Illinois Candidates Guide, visit www.elections.il.gov.  For Village of Ladd information, call (815) 894-2440.
SOS – SAVE OUR SOLDIER
The Village of Ladd has begun an effort to raise funds to repair the WWI soldier monument in War Memorial Park.  The statue is deteriorating and the cost to restore and treat the statue, plaques, and stone is $12,020.  Dr. Andrzej Dajnowski is skilled in monument restoration and has agreed to perform the work.  Donations are being accepted via mail (Village of Ladd, PO Box 305, Ladd, IL 61329) or by drop off to the Village Clerk at Village Hall, 121 North Main Avenue.  For more information, contact Gary Marini @ (815) 894-3009 or Sandy Galetti @ (815) 894-2954.
FALL INTO READING
The Ladd Public Library will hold an adult fall reading program from October 5 thru November 21.  Participants should register in advance at the library then either read or listen to a book.  Each book you read earns one prize raffle ticket, ask the library clerk for your ticket when you return your book.  There is a limit of ten tickets per person.  Choose which prize you would like to win and place your ticket in the jar that corresponds to that prize.  The program is open to ages 18 and over and the deadline to enter is November 21.  Participants are limited to winning one prize.  Winners will be announced during Thanksgiving week.  For more information, contact the library at (815) 894-3254.
TAPS ON MAIN STREET
At the 11th hour on the 11th day of each month, Taps is played over our Main Street speakers as a reminder to all citizens of the sacrifices that our servicemen and servicewomen have made for our freedom.  Everyone is welcome to gather at the Veteran's Memorial Monument in War Memorial Park for the tribute.
WATER MAIN PUBLIC NOTICE
Construction of Main Street Alley Water Main Improvements located in the alley on the East side of Main Street was financed in part by the Drinking Water State Revolving Fund (SRF).   The SRF program is administered by the Illinois Environmental Protection Agency and receives a portion of its money to fund these types of projects from the US Environmental Protection Agency.  This project includes improvements to the Village's water distribution system. The project will replace water mains in the alley between Cleveland Street and the railroad.  Water Mains will also be replaced on the south side of the railroad from the west side of Main Street to LaSalle Street and also along Main Street from the railroad to approximately 300 feet north.   Once complete, it will improve water quality for area residents and businesses in the Village of Ladd by improving reliability, volume and reducing maintenance costs.  SRF programs operate in each state to provide communities the resources necessary to build, maintain, and improve the infrastructure that protects one of our most valuable resources: water.
2023 DOG TAGS
Dog tags for the calendar year 2023 are now available in the Village Clerk's office.  The fee is $5.00 per dog and is in addition to the Bureau County tag.   For more information, call the office @ (815) 894-2440.
LADD SENIOR VILLAGE
Information for Ladd's new senior housing development can be found on the About tab > Ladd Senior Village.
NET METERING POLICY WITH INTERCONNECTION AGREEMENT & APPLICATION(S)
NET METERING WITH INTERCONNECTION AND APPLICATIONS 5-2022
2021 WATER QUALITY REPORT
Your annual water quality report is now available at http://testinc.com/ladd.pdf.  To speak with someone about this report or to have a copy of it mailed to you, please call (815) 894-2440.
2022 GOLF CART STICKERS
2022 golf cart stickers are now available for purchase ($25) in the Village Clerk's office.  Current stickers will expire on March 31st.   For more information, call the office @ (815) 894-2440.