RED CROSS BLOOD DRIVE
An American Red Cross Blood Drive will be held from 1:00-6:00 pm on Friday, August 26, in Ladd's Community Center.  For an appointment, call 1-800-RED CROSS (1-800-733-2767) or visit redcrossblood.org.  Save up to 15 minutes when you donate blood by using RapidPass.  Visit redcrossblood.org/RapidPass for more information.  Bring photo ID or blood donor card, or two other forms of identification.  If you have an O, B-, or A- blood type, please consider making a Power Red donation.
LIHEAP ENERGY ASSISTANCE PROGRAM
Funds are available to assist income-eligible households with natural gas, propane, and electric bills, and furnace assistance, said the Tri-County Opportunities Council, which services Bureau County.  The program will begin September 1 for all income-eligible households.  Applications will be taken on a first-come, first-served basis through May 31.  There will be no priority groups this program year.  Water and sewer assistance is available this year in the Low Income Household Water Assistance Program.  Apply for water and sewer assistance on the same application. Households in need are encouraged to apply.  For outreach locations and schedules, for information on what documents are needed to apply, and for different ways to submit an application, call the Tri-County Opportunities Council @ 1-800-323-5434 or visit tcochelps.org.
MUSIC IN THE PARK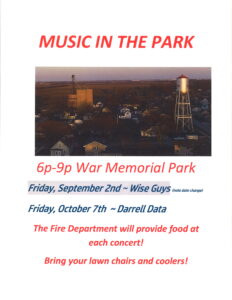 WATER MAIN PUBLIC NOTICE
Construction of Main Street Alley Water Main Improvements located in the alley on the East side of Main Street was financed in part by the Drinking Water State Revolving Fund (SRF).   The SRF program is administered by the Illinois Environmental Protection Agency and receives a portion of its money to fund these types of projects from the US Environmental Protection Agency.  This project includes improvements to the Village's water distribution system. The project will replace water mains in the alley between Cleveland Street and the railroad.  Water Mains will also be replaced on the south side of the railroad from the west side of Main Street to LaSalle Street and also along Main Street from the railroad to approximately 300 feet north.   Once complete, it will improve water quality for area residents and businesses in the Village of Ladd by improving reliability, volume and reducing maintenance costs.  SRF programs operate in each state to provide communities the resources necessary to build, maintain, and improve the infrastructure that protects one of our most valuable resources: water.
LADD SENIOR VILLAGE
Information for Ladd's new senior housing development can be found on the About tab > Ladd Senior Village.
NET METERING POLICY WITH INTERCONNECTION AGREEMENT & APPLICATION(S)
NET METERING WITH INTERCONNECTION AND APPLICATIONS 5-2022
FARMERS MARKET
Ladd's Farmers Market is held in War Memorial Park each Monday from 4:00pm to 6:00pm with the exception of July 4th and September 5th.  The park is located at 301 South Main Avenue and there is no charge to participate.  A variety of food trucks will be available during this year's market.  For more information or if you would like to participate, contact Molly @ (815) 894-2619 or (815) 541-8116.
2022 FARMERS MARKET FOOD TRUCKS
TAPS ON MAIN STREET
At the 11th hour on the 11th day of each month, Taps is played over our Main Street speakers as a reminder to all citizens of the sacrifices that our servicemen and servicewomen have made for our freedom.  Everyone is welcome to gather at the Veteran's Memorial Monument in War Memorial Park for the tribute.
MUSIC IN THE PARK
Music returns to War Memorial Park, 301 South Main Avenue, on the following Fridays from 6:00 to 9:00 pm.  Food will be available from the Ladd Fire Department.  Popcorn and water will also be available for purchase.  A limited number of picnic tables will be available for seating so bring your blankets, lawn chairs, and refreshments to enjoy some great music with friends.
May 27 – Joey Figgiani
June 24 – Jerry Armstrong, the Legends of Las Vegas
September 2 – Wise Guys
October 7 – Darrell Data
YARD WASTE COLLECTION
To be included on the 2022 yard waste collection route, residents are to sign up by mailing a $10 check to Republic Services, 101 Peggy Lane, Princeton, IL  61356.  Write on the memo line of your check "YW – your address", for example "YW – 121 North Main Avenue".   This payment will allow the collection of yard waste in biodegradable bags on Fridays with your regular trash pickup.  The collection starts in April and continues through autumn.  For more information, contact the Clerk's Office at (815) 894-2440.
AMEREN GAS LINE UPGRADE
Ameren is currently performing gas system upgrades on the east side of town and has contracted with a company to do the work.   Work on the gas system upgrades began in April and will continue thru mid-October.  The contractor will level, seed, and place straw over the areas affected by the work.
2021 WATER QUALITY REPORT
Your annual water quality report is now available at http://testinc.com/ladd.pdf.  To speak with someone about this report or to have a copy of it mailed to you, please call (815) 894-2440.
WAR MEMORIAL PARK
Tickets will be issued to violators.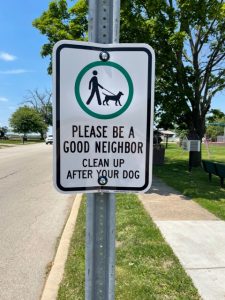 2022 GOLF CART STICKERS
2022 golf cart stickers are now available for purchase ($25) in the Village Clerk's office.  Current stickers will expire on March 31st.   For more information, call the office @ (815) 894-2440.
2022 DOG TAGS
Dog tags for the calendar year 2022 are now available in the Village Clerk's office.  The fee is $5.00 per dog and is in addition to the Bureau County tag.   For more information, call the office @ (815) 894-2440.